Indiepocalypse Double Feature: Traversing Borrowed Worlds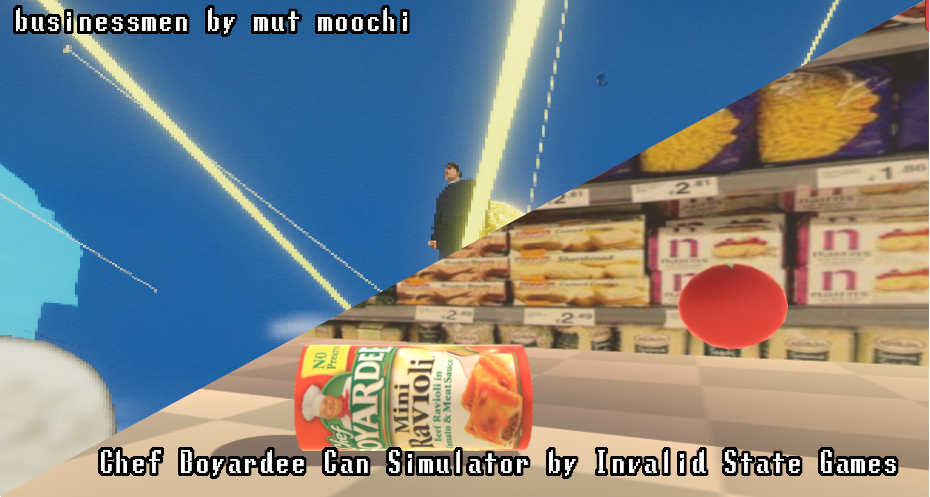 For this edition of Indiepocalypse Double Feature I wanted to look at two games that feature non-standard movement and, *ehem*, borrowed assets.
The first, businessmen by mut moochi places you in the role of a businessman with a goal loved by both businessmen and video game protagonists alike, collecting coins. Set in Delfino Square, businessmen appears on its onset to be a straightforward coin collector until you begin to play it. While you have control over your horizontal movement, the slow discovery that vertical movement is controlled by pushing yourself against geometry is beautiful exploration of glitch as gameplay.
Chef Boyardee Can Simulator by Invalid State Games likewise places you in the titular role, only this time as a can of Chef Boyardee collecting tomatoes instead of coins (less common a goal for video game protagonists). There is a particular madness to this as you move in the exact way you think you might move were you a sentient can of affordable pasta products. Bearing accurate scans of the Chef himself (with cameos from other grocery store Italian-adjacent staples) and accompanied by a never-ending "Tarantella Napoletana", this is truly the quintessential artistic representation of what it means to be a can of Chef Boyardee Mini Ravioli.
businessmen was featured in Indiepocalypse #36
Chef Boyardee Can Simulator was featured in Indiepocalypse #2